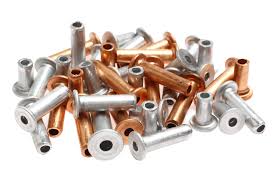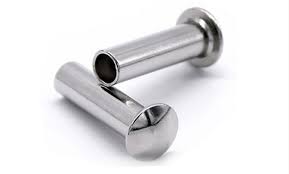 Tubular rivets are used to fasten duct work or assemble mechanical products and electronics. Tubular rivets have a hollow shaft to reduce the amount of force required to apply them. Rivets with a hollow tip are called semi tubular. Both types can be affixed loosely to function as a pivot point.
A tubular rivet is a type of fastener used to join two materials. They consist of a hollow tube with a head on one end and a tail on the other that is flared to create a secure connection. Tubular rivets are typically made from materials such as steel, brass and aluminum and are commonly used in applications where a strong and permanent connection is required. They are commonly used for leatherwork and for making bags, belts and other accessories. Tubular rivets come in a variety of sizes and can be set manually or with a pneumatic rivet gun.  We at Dojorivets are one of the best Tubular rivets Manufacturer in India providing our services for years. We maintain 100% material quality. Now no need to find more Tubular rivets suppliers near me or in India. Contact us for more information.
Like its name implies, the tubular rivet has a hollow shank with the remainder of the fastener being similar to the solid rivet. The tubular rivet is used to fasten thin sheets of material like plastics, leather, sheet metal, and pivot points when movement is necessary.
Are tubular rivets strong?
Tubular rivets are industrial-strength metal fasteners used for attaching leather straps to heavy-duty bag projects, They have an extra-strength hold, great for bags designed to carry a heavy load. Tubular rivets must be set with a tubular rivet peening tool and a non-rubber mallet on a hard, stable surface.